Competition Successes

BBC Wildlife Photographer of the Year. - UK/World annual competition, entered regularly

BBC Countryfile/Radio Times Photo Competition - UK annual, entered occasionally

Other annual competitions such as 'Nature's Best' (USA/World) and European competitions entered sporadically/whe time permits.


---


BBC Wildlife Photographer of the Year.

About the only competition that Geoff enters regularly.


In the 1998 Competition, Geoff's photo of a Red-throated Diver on its nest and perfectly reflected in calm water (view picture) was the winner of the 'Animal Portraits' category. The Red-throated Diver (like a streamlined goose) is a rare bird in Britain, breeding only in the wild moorlands of Scotland, and a special licence is required to photograph it anywhere near its nest.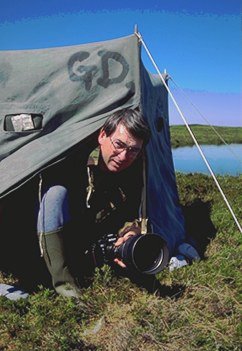 Photographing Red-throated Divers in north Scotland
(seven hours in the 'sweatbox')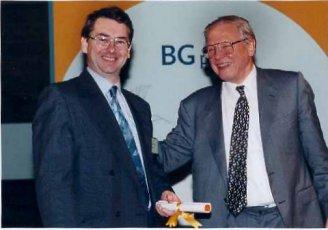 Geoff receiving his award from Sir David Attenborough at the
Awards Ceremony of the BG Wildlife Photographer of the Year Competition
at the Natural History Museum, London, in October 1998.
Photo courtesy Bill Mackenzie




Geoff also had another picture Highly Commended in the 'Wild Places' category, a photo of a group of Shags at the base of a huge sea-cliff with giant crashing waves (view picture).



In the 1997 Competition, Geoff's photo of a Kingfisher perched on one of a group of posts and reflected in the lagoon of a Nature Reserve in England (view picture) was Highly Commended in the 'Composition and Form' category.

In the 1994 Competition - which attracted 'only' 12,000 entries - his photo of Fallow Deer grazing beneath a Scots Pine at dusk in the New Forest in England (view picture) was runner-up in the 'From Dusk to Dawn' category.

In earlier years of the Competition he has been winner of the 'All Other Animals' Category with a close-up picture of a Horse-fly and has had several other photos Highly Commended.

(Winning and Highly Commended photographs from the Wildlife Photographer of the Year Competitions can be seen in the books of the same title published annually by Fountain Press of the UK and the BBC).


BBC Countryfile/Radio Times 'Photo 2000' Competition



Geoff was one of the finalists in the BBC Countryfile/Radio Times 'Photo 2000' Competition - which had the theme 'The Changing Face of Britain's Rural Countryside' - with his photograph of wild Scottish moorland ploughed for so-called 'tax-loss forestry' (view picture).



This page last revised: Jan 2005